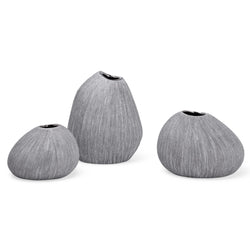 Granite Finish 3 Piece Assorted Ceramic Mini Bud Vase Set
This set of three ceramic vases feature a granite-inspired finish and electroplated trim to add sophistication and elegance to any space. With their organic shapes, these are ideal as mini bud vases, or can be used on their own as a sculptural display. Use on their own, or group together on a desk or shelf, these stylish vases will add a modern appeal to any home or office.
Dimensions: Small. 4 x 4 x 2.75h". Medium. 5 x 4.5 x 3.5h". Large. 4.5 x 3.5 x 5.5h"
Notes:
Wipe clean.