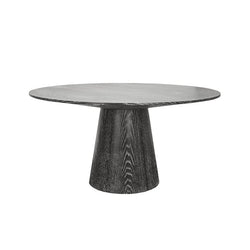 Hamilton Dining Table - Black
DIMENSIONS
Width:59.00"
Height:30.00"
Depth:59.00"
Our Hamilton round dining table makes the most of its classic, minimalist silhouette. The tapered wood base offers a handsome, solid foundation and black cerused finish accentuates beautifully textured oak grain – and what a statement black makes! With a 59-inch, reverse-beveled top, the Hamilton comfortably seats six.

TOP THICKNESS: APPROXIMATELY 1" H

CLEARANCE: APPROXIMATELY 29" H AT EDGE

*Wood has natural variations and may differ slightly between panels.

*ASSEMBLY REQUIRED. INSTRUCTIONS PROVIDED.